---
How it works
You can borrow from $2000.
If you supply all the information we've asked for and your loan is approved, you can get the cash as early as the next business day.
We have a special rate of if you're a Graduate Pack or Home Loan customer.
Call 0800 549 454 and talk to one of the team or use the online application and we'll be in touch within 24 hours.
Repayments can be set up weekly, fortnightly or monthly.
With a fixed interest rate and set repayment amounts, a personal loan can help with budgeting – you'll know exactly how much you need to repay and when. You can also make additional repayments at any time to pay it off faster.
If you'd like to set up a direct debit, fill out the

personal loans direct debit form

(PDF 507.0 KB)

and email it to our personal loans team.
---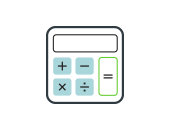 What might my repayments be?
Our personal loan calculator* will give you an idea of what your repayments might be, how long it'll take to pay off the loan and what the total interest might be.
Personal loan calculator
Rates and fees
Our interest rates range from to with payment options from six months to seven years giving you the choice of lower repayments over a longer period or paying less overall interest with a shorter term.
There's an establishment fee of $240. Kiwibank Graduate Pack customers won't be charged an establishment fee.
What might a personal loan cost?
If you borrow $10,000 over four years at 16.95% p.a. with weekly payments of $66.28, your total interest cost will be around $3,785. This excludes adjustments for any establishment fee, personal loan insurance premium or any extra payments you may choose to make.
Read more about our rates and fees
Having trouble making your repayments?
If you're falling behind and struggling to meet your repayments, call us on 0800 549 454 to see if you qualify for financial hardship assistance.
---
What you'll need to apply
We've made our application process quick, easy and thorough. Our online application allows you to save your progress as you go. To complete your application having some specific information handy can help speed things up. Find out more.
Apply now
Make sure you read the Personal Loan Terms and Conditions (PDF 157.2 KB) to understand in full how our personal loans work.
---
Merge your debt into one loan
Get debt free faster. Debt that never goes away gets you nowhere – that's why we structure our personal loans so that you're always working towards paying off your debt with fixed regular repayments.
Sort your debts out. If you have multiple hire purchases, credit cards, overdrafts and personal loans it can be hard to keep track of the payments, and can potentially cost you more than it needs to.
Reorganise – one fixed payment – less confusion. We can help reorganise your debts into one easier to manage loan.
We can help. Talk to one of our team who can help guide you through merging your debts into one loan, working out potential savings and creating a payment plan to suit your situation. We can help by ensuring that money is transferred to your other debts from your new loan too.
What you'll need. The amounts you owe, what you pay regularly and the interest rate you pay. You can get this information from your loan documents or by asking your lender.
You may also be interested in:
Debt consolidation offer terms and conditions
The standard rate for new loans $10,000 or more is 16.95% p.a. fixed. New lending that's been approved must be drawn down by 8 November 2019. A $240 establishment fee applies.
Standard terms and conditions
Personal loans and car loans are provided by Latitude Financial Services Limited ('Latitude'). Kiwibank receives a commission for referring these loans to Latitude. Latitude's lending criteria, terms and conditions and fees apply. Where new lending is consolidated with an existing Kiwibank or Latitude provided personal loan, a blended interest rate will apply.
*This calculator should be treated as a guide only. It does not take into account all of your individual circumstances, and is not financial advice.
Related pages
Handy things